By Judy |
25
November 2021 |
0
Comments
All You Need to Know About Nail Glitters
All You Need to Know About Nail Glitters
It comes as no surprise that with the beginning of the winter season, there is an increase in demand for all holiday-style stereotypes. Whether they are luxurious fabrics, certain types of jewelry, or anything else, the ones that stand out the most are undeniably the topic of our conversation today – glitter nails.

This is the only accessory that can lighten up your mood at any given time of day. Are you tired of typing up emails in a day? A glance at your nails that catch the light will seem to do the trick.
Since we've got hundreds of options for nail art, let's start by discussing how to choose nail glitters in the first place.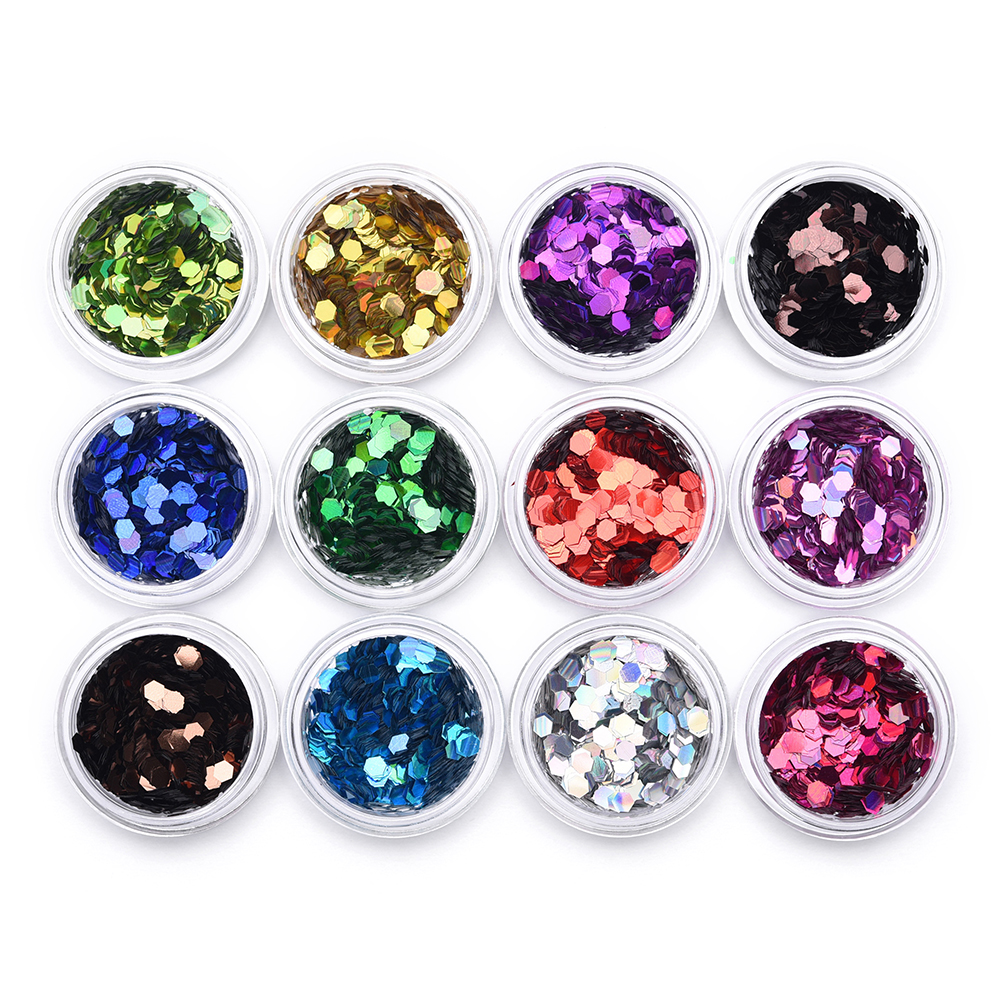 Why Choose Nail Glitters
-Always in Fashion: Nail glitters are one of the few accessories that are not seasonal. This makes them a perfect fit for any occasion, any season, and all year. Never shy away from matching them with any outfit you're going for, as the diversity of options that are available in nail glitters allow them to be paired in hundreds, if not thousands of ways with your different choices of clothes!
-Stand Out: Putting on nail glitters is an exceptional way to stand out from the crowd. Whether it's a college party, family BBQ, office dinner or any other occasion, a good pair of glitter nails can elevate your fashion level. Being highly sophisticated yet equally elegant, they are sure to add a charm to your overall look that you won't receive any other way.
-Great way to end your Mani: One of the biggest questions of the universe that we still haven't been able to settle on: How do we end off our manis? One of the most glamorous ways to do that is through nail glitters. Not only is the hands-down the glitziest way to add a sparkle to your fresh new nails but believe us when we say that the appeal that they provide is unreal! It's like the cherry on a cake!

Well now that we're all on the same page as to why nail glitters are a great choice for your overall look, let's move on to one of the important parts of this conversation: the different types of nail glitters.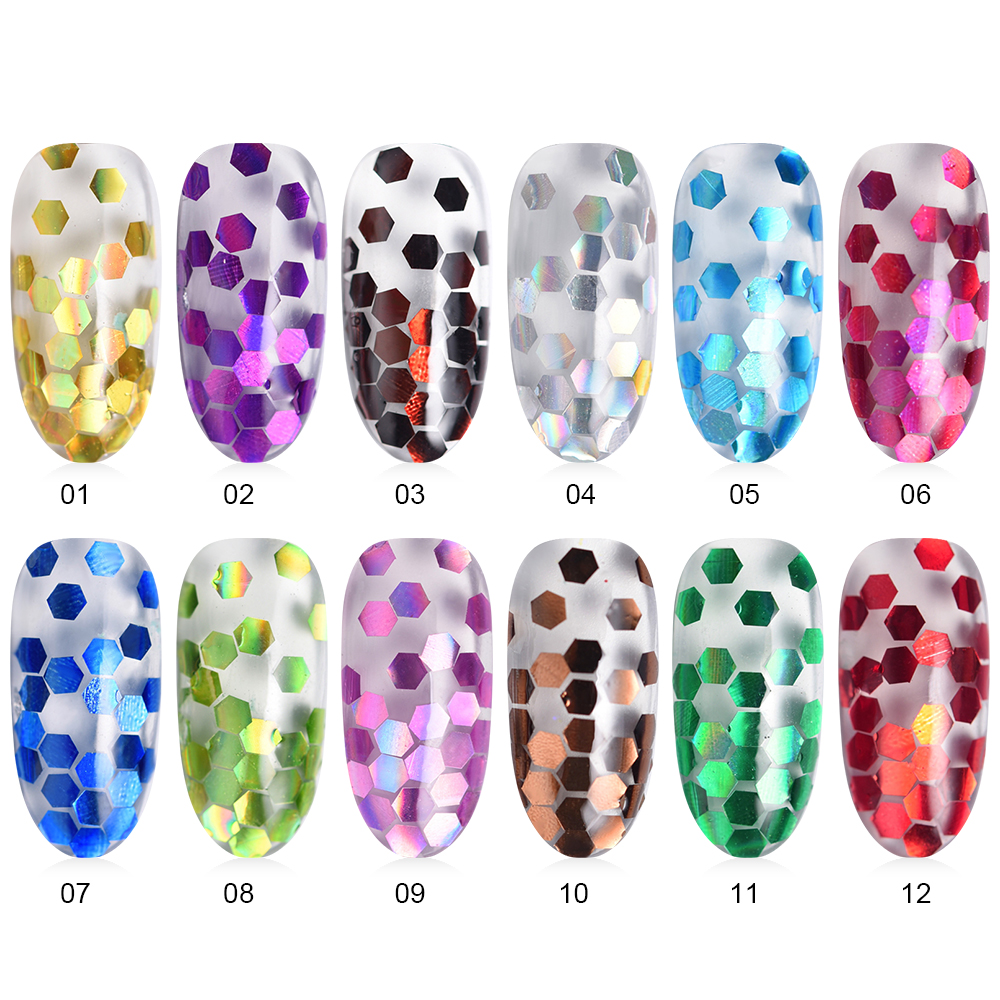 Getting to know your glitters is almost as important as getting to know which skincare products you're applying to your skin. Knowing what you are working with gives one a satisfaction as to what the outcome of using that product will be, and that feeling is unlike any other.
Nail glitters come in a wide array of different and unique styles, each one of which has its own significance and impact on the different outfits that they can be styled with. Some of them are all-rounders, looking elegant with any outfit you will want to pair them with. On the other hand, you will occasionally also come across certain types of nails that have their own unique "glam", which allows them to be paired with only specific outfits that have to be shortlisted.

Therefore, it's a good idea to thoroughly understand and define the types of nail glitters you might come across in your day-to-day workings. Are you looking for mystical and shimmering special effects that look absolutely stunning under disco lights? Look no further than holographic nails, which will transform your nails into exactly what you are looking for.

Types of Glitter Nail Art That Will Wow Any Client
Whether it's for personal use or professional use, if you want to apply glitter on your nails then it has to be done the right way. Especially if you are a nail technician who wants to wow his customers with some great glitter nail art then here are four of the best types that you need to try right away;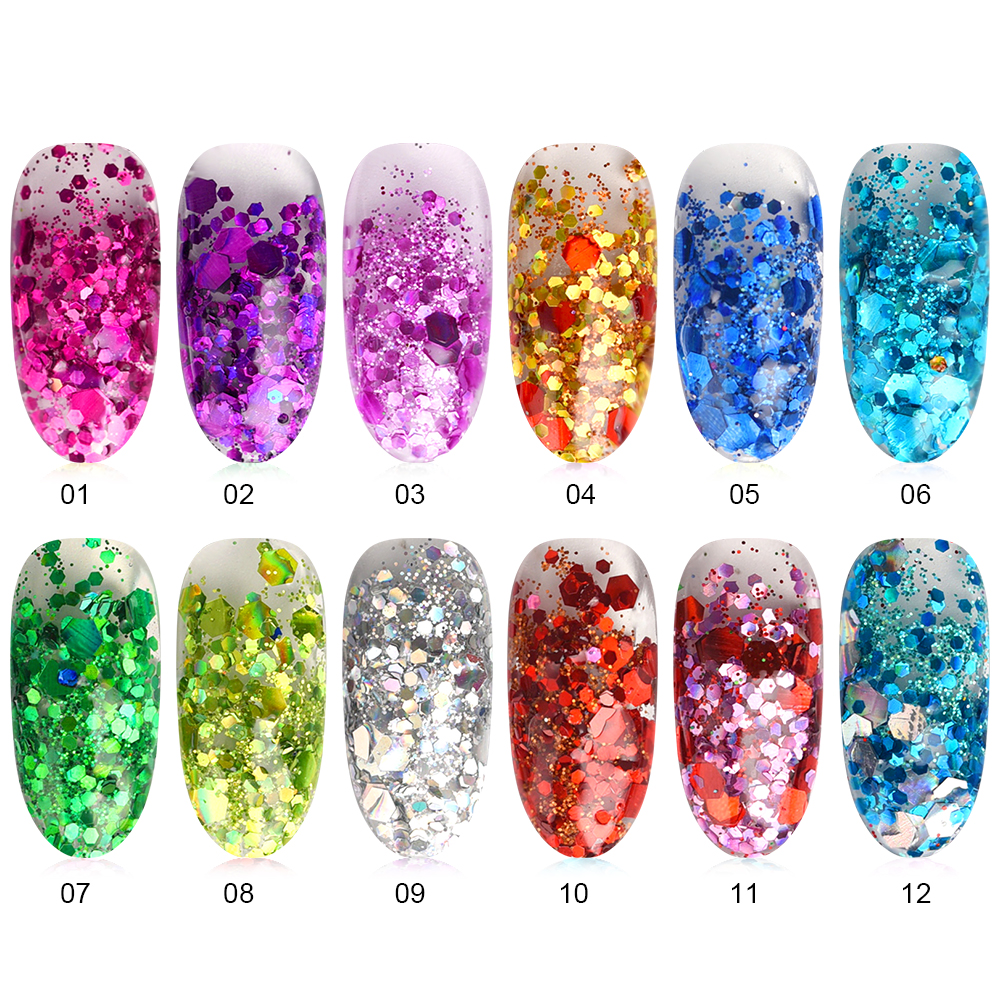 1-Holographic
On any manicure, you can try the chunky holographic nail glitter look and it'll definitely work wonders for you especially when combined with bright ombre fade or something extremely bold like a stiletto nail shape. This one's best for the kind of people who want to show off their nail glitter art in an effortless way. So if you have some young customers to impress then this is the right look that you should try.

2-Micro
Unlike holographic, micro glitter nail art is all about small tiny pieces of glitter sprinkled on a nude polish. This one will help in refining your nail sparkle that'll match any look you want. You can also go bold with a pink micro or keep the look simple with an earth-toned glitter. This glitter nail art is great for customers who want their nails to shine but without getting into any complexities. In a nutshell, this nail art is all about keeping the glitter simple and to the point.

3-Multi-Colored
Want an attention-grabbing manicure? There's nothing better than going multi-colored with your nail glitter art. When you mix and match different glitter colors, it'll help create a multi-dimensional sparkle that'll turn heads anywhere you go. In other words, this type is for those who want to go "Fancy" with their glitter nail art.

4-Shimmer
When it comes to "shimmer" you should know that it's more about using pearlescent particles together instead of opting for an overt glitter. This type will help you create a glam on your hand that won't look too much. When added to a chic manicure, shimmer can really work wonders for you and it can help you steal any show without any hassle. This is the kind of glitter nail art that you opt for when you want to keep things on the low while making sure that your nails are standing out!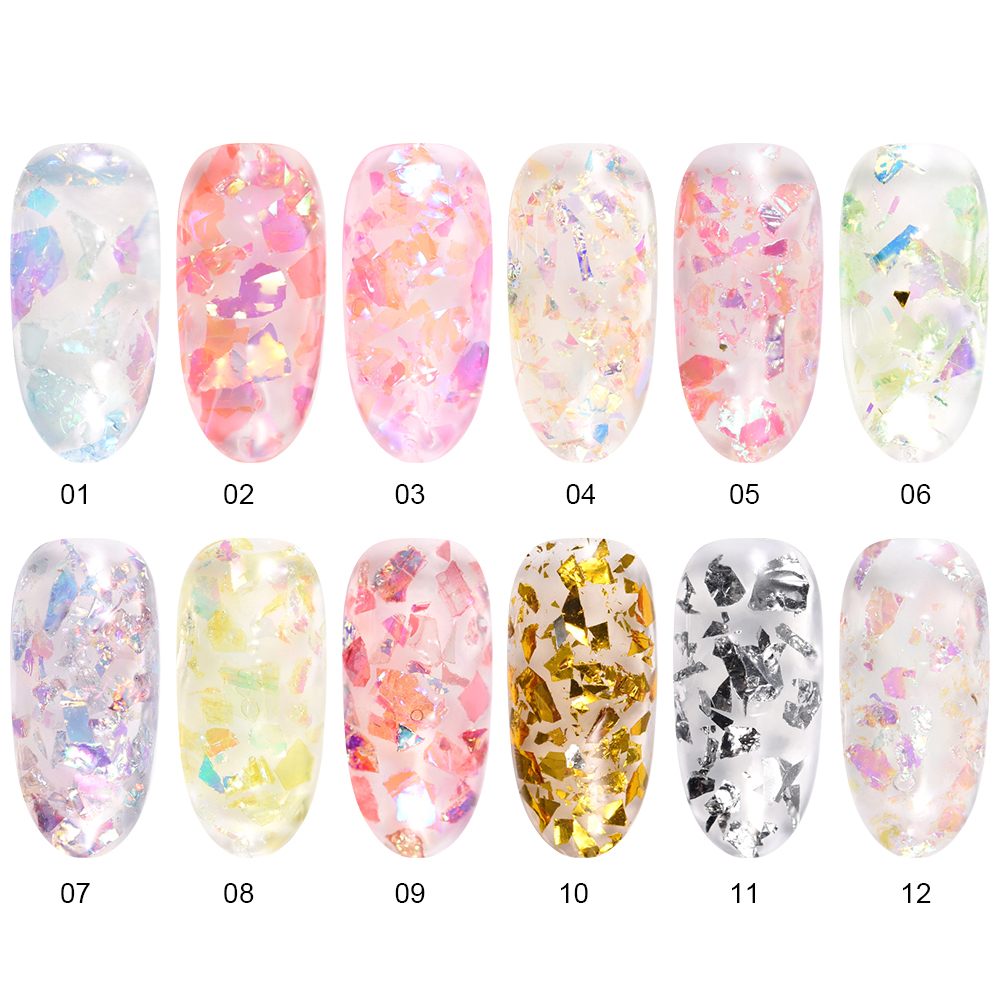 Now that you know about the best types of glitter nail art, let's move on to the part which spooks us all out: actually putting on nail glitter.

It looks so appealing at sight, but it is such a menace to put on. Almost anyone who has ever once put on nail glitters in their life knows this struggle. Getting a perfectly applied coat seems next to be impossible to almost everyone who has ever tried to put it on. The gloopy, patchy, and uneven coats after minutes that seem like millennia of application of your nail polish can be devastating to one. And do not even get us started on the drying process.

That said, going glittery does have its own set of advantages and drawbacks (the former of which obviously outweighs the latter, as you have seen up till now). Thus, we have a set of tips or tricks that we would like to share with you about the tiresome application process that bears its fruit in the form of beautiful and appealing glitter nails.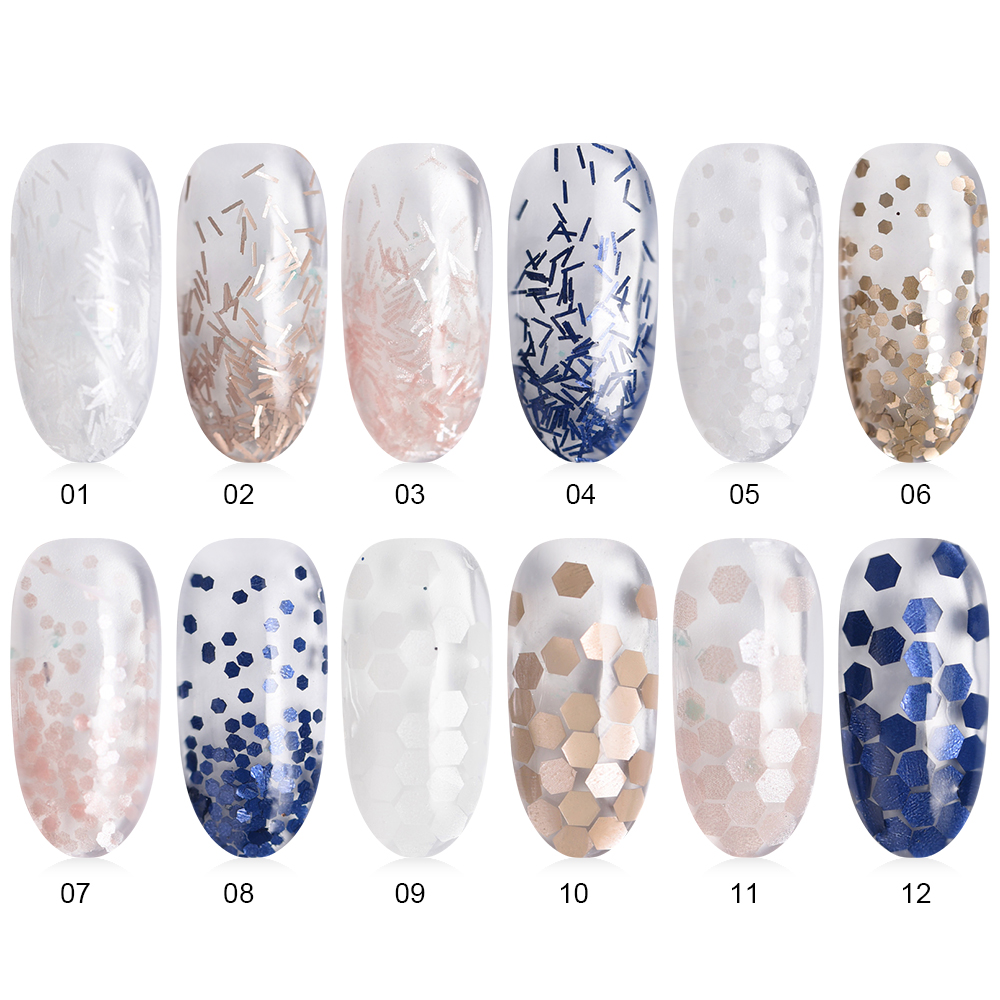 Step By Step Guide On How to Apply Nail Glitter

So, without any further ado, let's get into the specifics of what we have got into the store. Take out your notepads, and start writing, for these tips are gonna be an experience of a lifetime for you.

1. Begin With Base Coat
After talking to experts and reading critic's reviews online, we would tell you that it is definitely safe to say that when people try to avoid applying a base coat while using nail glitters, they are in the way of dark

This is a rookie mistake that we have seen even several amateurs making which can prove detrimental to the application process.

Professional manicurist Gina Edwards claims that applying the base coat of a "rubberized" nature is the staircase to a good glitter nail experience. This is due to the fact that the rubberized nature of the layer makes it extremely smooth, which not only allows a more appealing finish but also makes the glitter easier to remove. Thus, it's a win-win situation for you in either case.

2. Apply A Base Color As Per Your Preference
The next step involves the application of a base color. It can be any color that you like. Just know that when choosing the base color you have to consider the nail glitter that you'll be applying later. If it matches and can make the glitter look better and more prominent then you should continue with it or else look for another base color that suits you and the glitter well.

Pro Tip: Black is an extremely overrated yet elegant modern base color that is rarely used by women. Don't be afraid to experiment with the charm and majesty that a metallic black coat of nail glitter will provide you.


3. Apply Peel Off Latex Barrier To The Cuticle
In order to make sure that your glitter sets well on your nail bed, you first have to cover the cuticle area. People often overlook this step but you shouldn't because the final result won't come out good if there's glitter on your cuticles too. So the best solution to this problem is to use a peel-off latex barrier to cover the cuticle. You have to be very careful when applying this barrier and make sure that it covers the cuticles well so that no glitter is stuck on it later.

4. Apply Glitter
In the next step, you have to apply glitter to your nails. This is the main part of the process that you've been waiting for so you have to be very clear about it. In this step you just have to use your nail cuticle pusher to take a pinch of glitter and then sprinkle it on your nails evenly. Make sure that you are sprinkling the glitter all over the nail and do that in a way that it sticks properly. Then after you have done sprinkling the glitter, you have to wait for at least 60 seconds to cure it completely. In some cases, the glitter requires more curing time so this is something you'll be able to tell by looking at the condition of the glitter on your nails. Just wait and don't rush the process.

5. Swipe Excess Glitter
It goes without saying that there will be some extra glitter on your nails that you should get rid of otherwise your nails won't appear neat. So in this step, all you have to do is to swipe off the excess glitter into a separate storage box for nail glitter to use later. You can reuse the glitter the next time you want to give yourself a nail glitter manicure.


6- Use A Nail File To Smooth The Uneven Areas
After you have done removing all the excess glitter off your nails, the next step is to use a nail file and file all the uneven areas of your nails so that you can get a perfectly smooth look and shape. Again, overlooking this step shouldn't be an option for you especially if you want the final result to be as perfect as possible.

7- Remove The Peel Off Latex Barrier
Now that you are done with the glitter application, the next step is to remove the latex peel-off barrier. It's very simple and it'll come off easily. Once done, you can then use a cotton swab to clean the rest of your nails if required.

8- Finish Off With A Top Coat
The last step of the process is all about applying a top coat and then curing it for 60 seconds. This step again is quite simple and it requires little to no effort. Topcoat application is a must and then you have to wait till it cures so that you can have the best nail glitter

Leave a Reply
Your email address will not be published.Required fields are marked. *